---
Posted on 19th Nov, 2017
---
Serious Writing
It was one of those fresh, stimulating mornings that compelled me to write. I wanted to begin working on a poignant section for my Young Adult novel where my main characters, Pipi and Mum, were fronting the man who'd shot Dad in a tragic deer-hunting accident.
To write the scene, I had to become deeply part of it, so became the distraught hunter as he explained the sequence of events leading up to the accident. I also needed to work out how to describe the sounds of a gutted, sobbing person – the ragged breathing of pain, the cracking voice of grief – and what better way than to make the sounds? Which also taught me where to take the necessary breaks in the dialogue.
So that was what I was busily doing when my partner, Steve, came in the back door for coffee.
I was unaware of his presence so he heard all the snorting, snivelling, snotting and changes of breath as I leant over my keyboard, absorbed in a world that I would never wish to enter in real life.
"Erhem," I heard behind me.
Shedding my skin, I swung around, my face burning with embarrassment.
"Do I need a straitjacket?" Steve asked.
I tried to think of a reasonable explanation, but all I could blurt out was, "Can't I have a little bit of space while I'm writing?"
He began to laugh. "So what was that all about?"
I explained, but knew I was now completely out of my story and not likely to get back into it straightaway, so I threw on my gummies to pick some elderflowers and a few small roses to make elderflower cordial – a recipe from my new Dish magazine – instead.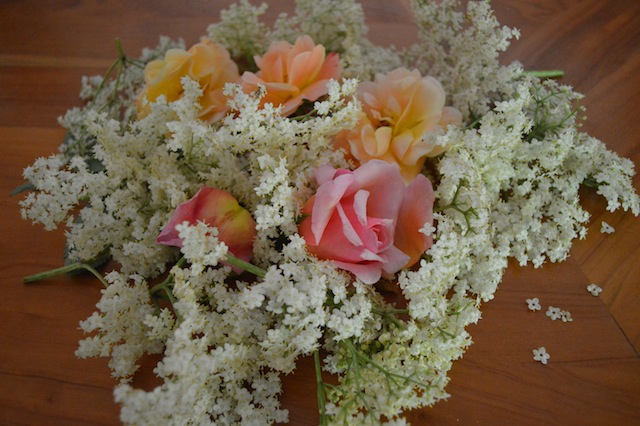 ---