---
Posted on 17th Nov, 2017
---
The Writing Shack
It's funny how things come about – where a sequence of events determines the least-expected outcome. That is how Mam's Writing Shack came to be.
One – 'Mam'. Family and grandchildren call me Mam and sometimes call me that on Facebook, therefore friends and acquaintances use it too.
Two – Retirement. For the whole time I have known my partner Steve, he has worked on a three-week on/off rotation, flying the third biggest helicopter in the world on heli-logging and firefighting in Greece and Australia. This meant he was home for only six months of the year – perfect for my writing career!
But Steve's retirement two years ago changed that. My personal computer sits on a desk in the lounge. With Steve home 24/7, writing became difficult with so many natural distractions. Stephen King said: "When writing, disconnect from the rest of the world. Writing should be a fully intimate activity. Eliminate all possible distractions, from phones to open windows. Write with the door closed; rewrite with the door open."
Three – Facebook. Many family and friends shared a photo of 'Mam's Wine Shack' to my wall. (Obviously there's another 'Mam' out there!)
Four – The idea. What about replacing the word wine with writing. And build a writing shack.
Five – The hint. I printed a photo of Mam's Wine Shack and placed it on Steve's desk – without a word. One day, many months later, he said, "I'm going to replace the old purple borer-infested garden shed and build you a writing studio."
Six – Love! And so began the labour of love. Steve (not a builder) tried to use as many second-hand materials as possible to keep costs down. And we had to adapt the Wine Shack so it complements our 100-year-old cottage, outbuildings and nostalgic gardens. Inside the shack, Steve used native timbers that we'd stored in a 20-foot container for many years. We actually milled the trees ourselves on an old Pedersen saw mill that came with a native timber licence. Danish oil brought the woodwork to life.
Finally, it is finished. I now have the ability to think clearly and have a great space to tap my keyboard in peace and quiet. Bliss!
And thanks, Steve – what a great idea it was.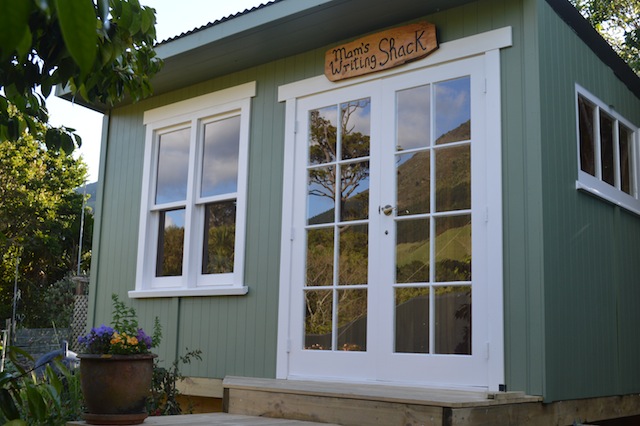 ---